UDS1 is a development kit dedicated to first experiments with FTDI USB interface devices using the UMS3 module.
UDS1 is a single layered PCB board with:
USB connector (B-type)
Socket for the UMS3 module
The 93C46 EEPROM (in socket) for the USB device identification
2 LED indicators
14-pin connector with direct FT232BM I/Os (TTL levels)
RS232 interface (level converter and 9-pin connector)
Important note:
The UDS1 board has been originally developed for the UMS1 module which has been discontinued. The UMS3 module can be used instead but some minor modifications on the UDS1 board must be made. Please read the UMS3 User's Guide to learn about UMS1 to UMS3 migration.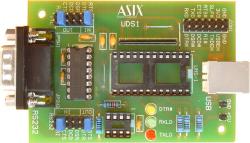 Larger image
UDS1 with UMS1 and EEPROM
Non-assembled UDS1 board

Supported devices
Contents